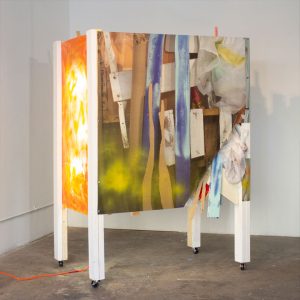 The Visual Arts program brings in a diverse variety of visiting artists for campus talks and public gallery presentations that includes visual artists, filmmakers, sculptors, painters, playwrights, essayists, interactive and digital media artists.
All artists talks are free and open to all. This series is presented in partnership with UBC Okanagan Gallery. For more information visit the UBC Okanagan Events Calendar.
Monday, January 23 | WANDA LOCK
Location: Lake Country Art Gallery, 10356 Bottom Wood Lake Rd.
Join artist/curator Wanda Lock at the Lake Country Art Gallery for an afternoon of conversation about art, living in the Okanagan, day jobs, cautionary tales and advice, plus a tour of the current exhibition, State(s) of Being.
Wanda Lock was born in Oliver, BC and grew up in Oyama, BC. She began her artistic training at Okanagan University College in Kelowna, then switched to the Emily Carr College of Art and Design in Vancouver, where she graduated in 1992. Since then, she has lived and worked in Lake Country, BC.
Lock's practice is based in painting and expands into drawing, collage, and installation. Her works often plays with themes of domesticity, nostalgia, and banality. She also has a curatorial practice and has been working as the curator of the Lake Country Art Gallery since 2015.
Presented in partnership with the Lake Country Art Gallery.
Monday, January 30 | AUSTIN CLAY WILLS
Location: Alternator Centre for Contemporary Art, 421 Cawston Ave.
Exhibiting a unique collection of image-based sculptural objects and installations, Austin Clay Willis's Moving Through Debris opens this winter at the Alternator Centre for Contemporary Art.
The works are inspired by temporary construction, DIY structures, childish forts, East Vancouver alleyways littered with broken cabinets and forgotten bed frames, industrial dumpsters filled with debris from construction sites, and the sorting bins at city recycling dumps. The installation deals with ideas of industrial and personal waste through the collection, recycling, and upcycling of common industrial material. The incorporation of these concepts becomes a source for reimagining and recontextualizing derelict and deteriorating debris. By referencing the processes of building and (inevitably of decaying), the use of found, reclaimed, and recycled material gives opportunity for new life to perhaps forgotten objects.
Presented in partnership with the Alternator Centre for Contemporary Art
Monday, February 13 | HANSS LUJAN TORRES
Location: virtual via zoom. Email katherine.pickering@ubc.ca to join.
Join artist, researcher and curator, Hanss Lujan Torres for a discussion about curating "Time As Relative" at the Alternator Centre for Contemporary Art.
Hanss Lujan Torres is an artist, researcher and curator from Cusco, Peru, working between the unceded territories of the Syilx/Okanagan Nation and Tiohtià:ke/Mooniyang/Montréal. He holds a Bachelor of Fine Arts with a minor in Art History and Visual Culture from the University of British Columbia Okanagan (2012) and is currently working to complete an MA in Art History at Concordia University.
His research and curatorial practice consider subjugated archives, queer temporalities, and alternative futures in contemporary art. Hanss is the research coordinator for the Indigenous Futures Research Centre. In addition, he has worked with several arts organizations in British Columbia, including Oxygen Art Centre, the Lake Country Art Gallery, Two Rivers Gallery, the Alternator Centre for Contemporary Art, and the Kelowna Art Gallery.
Monday, February 27 | TERRANCE HOULE
Location: virtual via zoom. Email katherine.pickering@ubc.ca to join.
Terrance Houle (Niitsitapi/ Saulteaux) is an internationally recognized interdisciplinary media artist and a member of the Kainai Nation/ Blood Tribe. Involved with Aboriginal communities all his life, he has travelled to reservations throughout North America participating in Powwow dancing along with his native ceremonies.
His work ranges from subversive to humorous absurdity to solemn and poetic artistic expressions. His work often relates to the physical body as it investigates issues of history, colonization, Aboriginal identity and representation in popular culture, as well as conceptual ideas based on memory, home, and reserve communities. Houle works in whatever media strikes him, and has produced work in photography, painting, installation, mass marketing, performance, music, video, and film. Houle's work has been exhibited across Canada, the United States, Australia, the UK and Europe. Since 2014, Houle has been working on an ongoing collaborative project titled GHOST DAYS. GHOST DAYS evokes colonial and non-colonial histories that exist in the light of night as in the darkness of the day, and awakens a collaboration with artists, audience, and spirit. Currently, He has co-directed a short animation Otanimm/Onnimm with his daughter Neko Wong-Houle which is currently touring Film festivals, In Los Angeles, NYC, Toronto, New Zealand, Vancouver, Oxford & many more. Recently their short film won the prestigious Golden Sheaf Indigenous Award at Yorkton Film Festival and is Neko's First Award in Film at 17 years old. Houle is based in Calgary, Alberta.
Monday, March 20 | DAVID & JORDEN DOODY
Location: Meet at the Rutland Bus Exchange (at Shepherd Rd. & Dougall Rd. N)
Join artists David & Jorden Doody for walking tour of the Uptown Mural Project. The Uptown Mural Project is an inclusive and educative urban art initiative held in Rutland BC that is supported by the Uptown Rutland Business Association.
Each of the murals locations has been strategically selected creating a short walking tour within the Rutland Business Improvement Area.
David & Jorden Doody are interdisciplinary artists who examine the transitional spaces between tangible material and digital media. Jorden received her BFA and MFA from UBC Okanagan and continues to exhibit widely across Canada. David received his BFA from UBC and his MFA from Concordia University.
Jorden & David are currently Visual Arts instructors at UBC Okanagan. They are also the Artistic Directors of the Uptown Mural Project, an inclusive and educative urban art initiative held in Kelowna's Rutland neighborhood.
Monday, March 27 | JJ LEVINE
Location: virtual via zoom. Email katherine.pickering@ubc.ca to join.
JJ Levine is an image-based artist living in Tiohti:áke/Montreal, known for his compelling body of work in portraiture. Represented by ELLEPHANT (Montreal), Levine's artwork has been exhibited at museums and galleries internationally. A major retrospective of his work, JJ Levine: Queer Photographs, was recently on view at the McCord Museum (Montreal).
His images have been featured in such publications as Photography and Culture, CV Photo, Esse, Slate, The Guardian Observer, and Society. Levine holds an MFA in Photography from Concordia University. In 2015, he self-published two artist books: Queer Portraits: 2006-2015 and Switch. Levine's art practice balances a queer ethos with a strong formal aesthetic.
Monday, April 3 | LINDSAY KIRKER
Location: CCS 221, UBC Okanagan
Lindsay Kirker's paintings take their cue from the rapid expansion of the urban landscape; surveying a curiosity and fascination with the built environment and a concern for the nature that surrounds us. By utilizing the tools of perspective Kirker reflects on our relationship with nature.
Drawing on reoccurring themes of love, loss, demolition and rebuilding, the construction in her paintings stand as a metaphor to explore the spectrum of human experience, confronting the ideas and structures we put in place in order to protect ourselves from uncertainty. The paintings themselves are a search for stability. As an emerging artist, solo exhibitions include – This is a Love Story in 2021 at The Alternator Centre for Contemporary Art and in 2022, This is Water at The Vernon Public Art Gallery. In 2022, she participated in the La Napoule Canadian Artist Residency in La Napoule, France, and in 2023 will be an artist in residence at The Boathouse outside of Ahmedabad, Gujarat, India. A graduate of The University of British Columbia Okanagan and recipient of the 2019 Audain Foundation Travel Award and Joseph-Armand Bombardier Canada Graduate Master's Award, she is presently settled on the traditional territory of the Syilx/Okanagan Peoples in British Columbia, Canada.