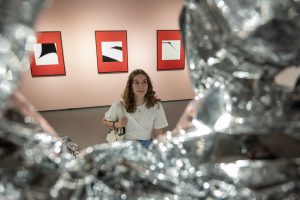 What: Invisible Forces and You are on Sylix Territory exhibitions
Who: Krystle Silverfox, Tiffany Shaw, Sheldon Louis, Coralee Miller, David Wilson and Manuel Axel Strain
Exhibition dates: June 7 to August 24, 2023
Exhibition times: open weekdays from 10:00 AM to 4:00 PM and weekends 9:00 AM to 5:00 PM
Where: FINA Gallery, CCS Building, 1148 Research Road, UBC Okanagan campus
Invisible Forces and You are on Sylix Territory exhibitions are now open all summer long until August 24, 2023. Both curated by Dr. Stacey Koosel, UBC Okanagan Gallery curator and Indigenous Art Intensive co-ordinator. "You are on Syilx Territory features new acquisitions from UBC Okanagan's Public Art Collection, and is a call to action, to Indigenize the university's art collection that currently has only 8 works by Syilx artists, in an 800 piece collection that is less than 1%."
You are on Syilx Territory contains paintings by celebrated Syilx painters, Sheldon Louis, Coralee Miller, David Wilson and Manuel Axel Strain that are part of UBC Okanagan's Public Art Collection.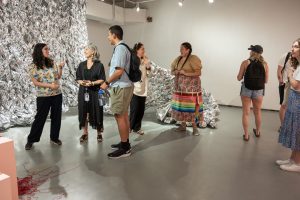 Invisible Forces features 2D and 3D works by UBC Okanagan Gallery's 2023 artists in residence Krystle Silverfox and Tiffany Shaw. The exhibition explores the concept that invisible forces guide us through our lives, through ethereal worlds, symbolism, dimensions and the passages of time.
Yukon based, Selkirk First Nation artist Krystle Silverfox was recently shortlisted for the Sobey Art Award (2022) with an exhibition at the National Gallery of Canada, in Ottawa. Artworks from Silverfox's National Gallery exhibition will be shown for the first time in Western Canada in Invisible Forces. Tiffany Shaw is a Métis architect, artist and curator based in Alberta, whose work has been shown at the Venice Architecture Biennale, and multiple public art commissions including Edmonton's Indigenous Art Park, will reinterpret an ongoing series of work that was recently shown at the Surrey Art Gallery and the Southern Alberta Art Gallery.